San Jose has received millions from the state to add hundreds of permanent and temporary homes in an attempt to alleviate homelessness across the city. But progress is slow with only 76 units available so far.
As of December, San Jose has received roughly $74 million from a state program to acquire four local motels and convert them into at least 281 transitional or permanent housing units for homeless people. This includes a $19.9 million grant the city received this week to repurpose 72 rooms at the underutilized Pacific Motor Inn on South Second Street in downtown into permanent supportive housing.
The city has also received about $51.5 million to construct a first of its kind three-story factory-built site with 204 rooms in the southern part of the city next year. The money for all five projects came from a $2.75 billion state grant program called Project Homekey, a post-pandemic initiative to help cities and counties develop more homeless housing.
Local officials in the South Bay are racing to build more housing, especially affordable and supportive residences, to help address a housing crisis that has driven residents away and left others falling into homelessness. According to the latest data, 6,739 people are homeless in the 10th largest city in the nation—75% of whom are sleeping on the streets without any shelter. San Jose policymakers have touted efforts to convert motels into homeless housing and quick-build housing models as solutions to the city's growing homeless crisis. But progress remains slow—with only SureStay Hotel, acquired by the city in 2020, operating currently with 76 rooms.
Downtown Councilmember Raul Peralez said he fought hard for the Pacific Motor Inn project. Many neighbors didn't want to see homeless housing replace the inn when the city first proposed the project. With the state grant, the motel will serve as transitional housing for dozens of unhoused people for two years before transforming into permanent supportive housing. Units won't available until next year.
"Now that we have the funds secured, that allows us to go out and finalize negotiations with the property owner," Peralez told San José Spotlight, adding the process could take a couple of months. "The expectation would be that we will be able to move people in next year."
The hotel is also part of a redevelopment plan that will bring a 30-story luxury tower at the corner of San Salvador Street. After months of negotiation, Peralez managed to convince Canadian developer Westbank, which is building the tower, to also redevelop the hotel into two apartment buildings that would together offer around 245 units for low-income and unhoused residents.
"I would say we're about three to five years away before we are actually moving on any kind of longer term high-rise development," Peralez said.
Where are the Project Homekey sites in San Jose?
San Jose has received $125.5 million in state funding to add transitional and permanent housing across the city. As of December 2022, only 76 units are available, with 485 homes planned.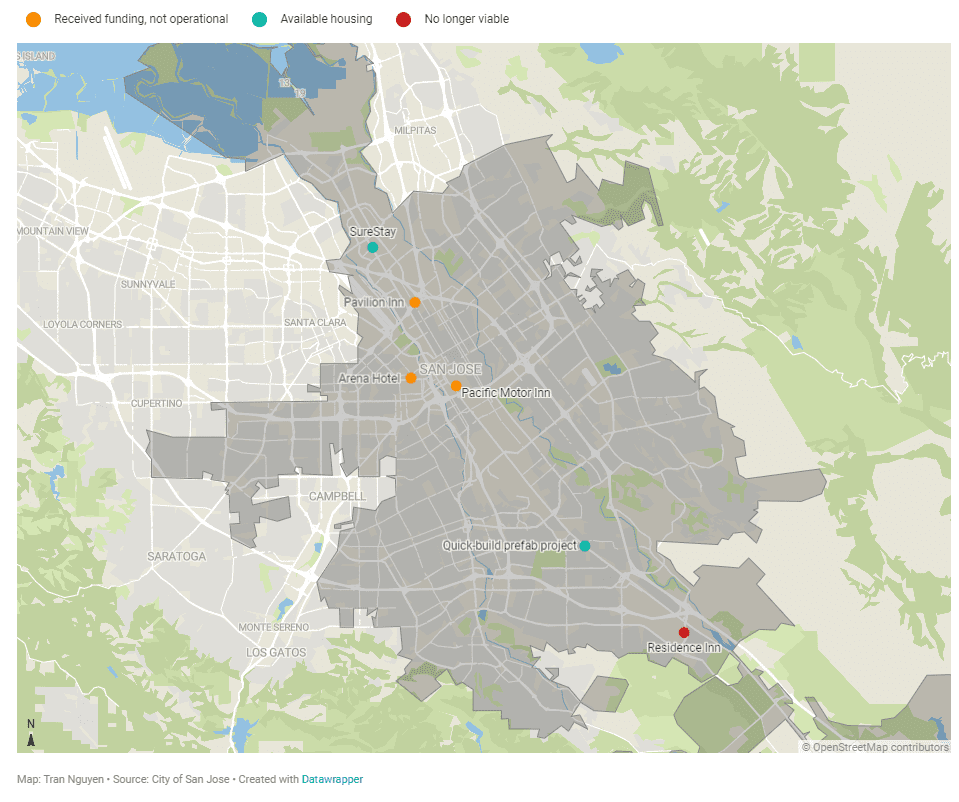 Surestay

– Address: 1488 North First Street Numbers of units: 76 Type: Interim housing District: 6 City partners: Adobe Services Funding from Project Homekey: $14.5 M

Pavilion Inv

– Address: 1280 N. 4th Street Numbers of units: 61 Type: Interim housing for homeless youth District: 6 City partners: Santa Clara County Housing Authority, Jamboree, the Bill Wilson Center Funding from Project Homekey: $14.3M

Arena Hotel

– Address: 817 The Alameda Numbers of units: 89 Type: Permanent housing District: 6 City partners: Urban Housing Communities, HomeFirst Funding from Project Homekey: $25.2M

Pacific Motor Inn

–Address: 455 S. 2nd Street Numbers of units: 72 Type: Permanent housing District: 3 City partners: PATH Ventures Funding from Project Homekey: $19.9M

Quick- build prefab project

– Address: Intersection of Branham Lane & Monterey Road Numbers of units: 204 Type: Interim housing District: 10 City partners: LifeMoves Funding from Project Homekey: $51.5M

Residence Inn

– Address: 6111 San Ignacio Avenue Numbers of units: 150 Type: Permanent District: 2 City partners: Santa Clara County Housing Authority, Jamboree Proposed cost: $55 million
In District 6, San Jose received $25.2 million to buy Arena Hotel on The Alameda and $14.3 million to house homeless youth at the Pavilion Inn on North Fourth Street earlier this year. But Councilmember Dev Davis, representing the area, said neither of them have come online yet. The hotels require renovation, which will take several months to complete. The city also has a lengthy process to purchase a property, Davis told San José Spotlight. Officials estimate both sites will start housing people next year.
"The timeline has been elongated," Davis said. "Right now, there are no services in there."
Officials also hope the prefabricated quick-build project in South San Jose will open its doors soon. The project, at the intersection of Branham Lane and Monterey Road, will only take months to build—not years like traditional housing, Mayor Sam Liccardo said.
Councilmember Sergio Jimenez, who represents the area, said the project will need to be built within a year in accordance to state law.
"I estimated construction may start in January," Jimenez told San José Spotlight. "It will probably take a little less than 12 months to build, so maybe by next fall we will see it."
San Jose had also hoped to turn 150 one- and two-bedroom units at Residence Inn on San Ignacio Avenue into another transitional housing project, but withdrew its application earlier this year after the hotel owner declined to sell, San Jose housing spokesperson Jeff Scott said.
With the state gearing up for the next round of Project Homekey funding next year, it's unclear whether San Jose will apply for more sites to convert into homeless housing.
"We're still putting together our strategies right now," Scott told San José Spotlight.
Original post: Tran Nguyen for San Jose Spotlight.