San Jose Mayor Matt Mahan created five committees to meet privately and advise him on the city's most pressing problems, but some say the move lacks transparency and could flout the law.
Mahan formed committees to help him tackle homelessness, crime, blight, permitting for development and downtown vibrancy. There are 123 total people on the committees, including community leaders, business executives, prominent developers and elected officials.
Mahan said the transition committees will help shape city priorities and the budget. But legal experts said the meetings might violate the state's transparency laws, namely the Ralph M. Brown Act, because they aren't public. The law requires government business to be conducted at open and public meetings.
Mahan acknowledged transparency concerns, but said it's an improvement from what his predecessors did.
"Every transition process that I've looked at has started prior to taking office, made up mostly of supporters and friends of the elected and has been focused on a lot of internal decisions that are never daylighted," Mahan told San José Spotlight. "I didn't want to do that. I wanted to do something that was more holistic and really thinking about how we're leading the city and achieving greater focus on the issues that affect people's daily lives."
Mahan, with the help of his council colleagues and local leaders, handpicked about 20-30 people that serve on each committee—each of which are chaired by one or two councilmembers. The committees each held two meetings in January and will have its final one this week. The committees' recommendations will be discussed at the Feb. 14 council meeting.
Mahan even met with political adversaries like Jean Cohen, South Bay Labor Council executive officer, to ensure the committees had diversity of thought and experience.
"She recommended eight different people and I invited them all," Mahan said.
But how exactly Mahan filled the committees, who was chosen and what they discussed was not public. Attorney Jim McManis, who has successfully sued San Jose over Brown Act violations, said this could be illegal.
"Is this transparent? Emphatically no," McManis told San José Spotlight. "This sounds like something the mayor's cooking up in the back room. And I don't think that's consistent with his message of open government and a new start."
He said Mahan seeking the advice of several councilmembers to fill the seats could be a violation.
"If six councilmembers talk, that's got to be in public. They can't do that in any setting outside a public meeting," McManis said. "Sometimes what they do is they try to get around this by what we call 'serial meetings.' So a person would talk to councilmember A, then councilmember B, C, D and E and could develop that consensus through this intermediary, which is a violation."
Mahan's office said its process was cleared by the city attorney. There isn't a majority of councilmembers on each committee, which only meets for one to two months. That exempts it from the Brown Act, according to members of his staff.
"I made clear to each of the committee chairs that whether or not it was a public meeting was up to them, and I think they opted for having these conversations (privately so it) would be more open and honest and productive," Mahan said.
Behind closed doors
The mayor said private conversations allow people like developers and nonprofit leaders to discuss problems inside City Hall without fear of retribution. All recommendations will be publicly reported to the full council, he added.
Some committee members agree.
"He was right not to share these meetings, because people become even more close to the vest when they know that what they say is going to get out there and (is) recorded forever," said Board President of the South Bay Islamic Association Athar Siddiqee, who sits on the public safety committee.
But community activist Kathy Cordova wishes she had an opportunity to join a comittee.
"I really do believe the thought behind it was to get the community voice. And yet, still, the meetings are not public, and we don't know who is sitting on them," Cordova told San José Spotlight.
Longtime community leader Walter Wilson wrote a letter to Mahan, calling the transition committee meetings illegal.
"The presence of your staff assigned to each committee session, implies intermediary efforts which are sufficient to constitute that level of serial discussion which generates a Brown Act violation," he wrote.
But lobbyist Sean Morley, who previously worked for former Mayor Susan Hammer, said Mahan's approach to transition committees is more transparent from previous mayors. He's not on a committee.
"He's hearing from a lot of voices," Morley told San José Spotlight. "He should be able to hear candidly from whomever he wants, in whatever form or fashion he wants to provide his best advice to the council and the community about how to structure the budget because that is his charter responsibility."
Still, legal questions persist.
David Loy, legal director with the First Amendment Coalition, said it's not clear if there is a violation, but that doesn't mean it's totally transparent.
"They might be in compliance," Loy told San José Spotlight. "But I think even if they're not on the wrong side of the line, I think they're pretty close to it."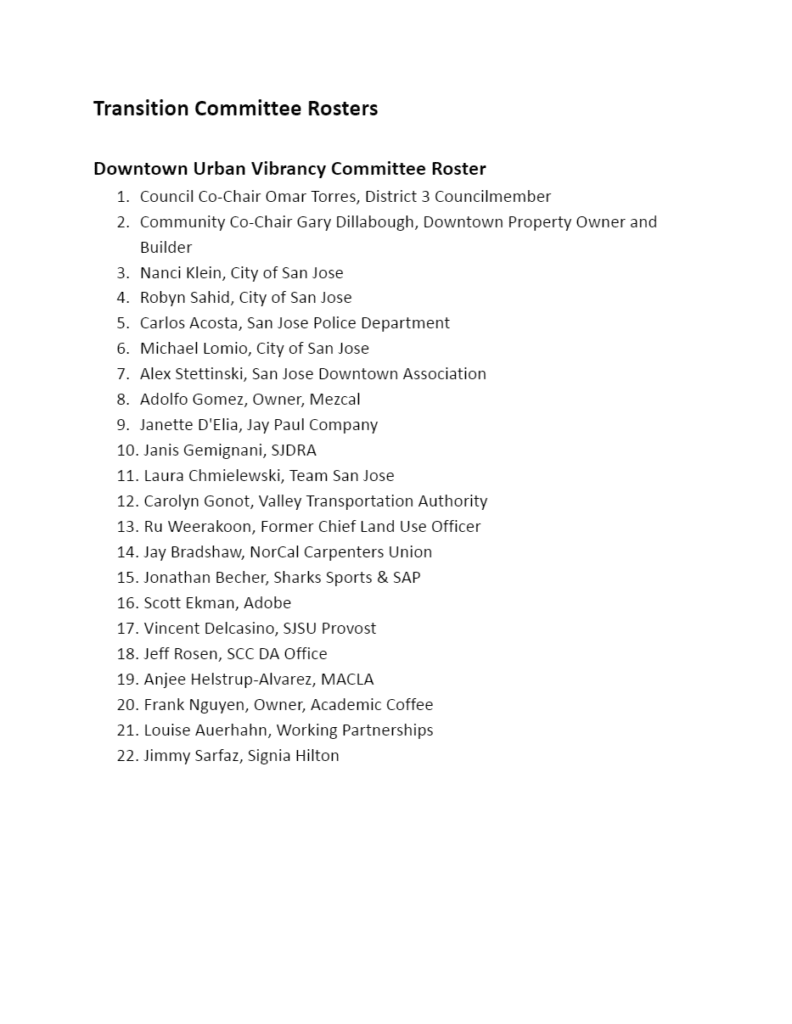 Original by Jana Kadah for San Jose Spotlight.