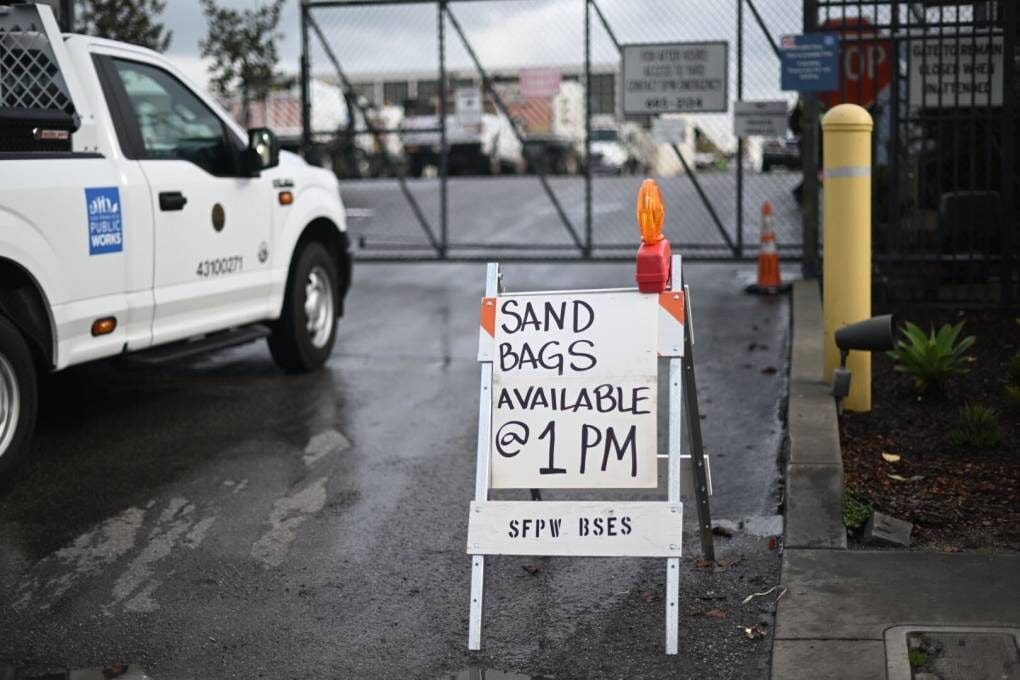 Another intense storm is heading toward the Bay Area, while the region is still recovering from the New Year's Eve deluge that killed one person, triggered several landslides, blocked off highways and flooded hundreds of homes.
The heaviest rain is expected to arrive on Wednesday afternoon and last through Thursday. Just like the New Year's Eve storm, this precipitation is caused by a weather system known as an "atmospheric river," which brings trillions of gallons of water vapor from the Pacific to California.
Meteorologists are raising alarm about the possible ramifications of this week's storm, and warn that the region could see more landslides and flash floods across roads and cities. The National Weather Service has issued both a flood watch and a high wind warning beginning 4 a.m. Wednesday and lasting through Thursday, covering all Bay Area counties. The NWS noted that "[c]reeks and streams may rise out of their banks. Flooding may occur in poor drainage and urban areas."
Bay Area officials are urging residents to prepare before the rain arrives on Wednesday, providing free sandbags, sharing information on flood insurance and more. KQED has compiled this information into one place and will be adding to this guide as more details become available.
How should I start preparing?
First up, understand how much your home could be affected by a storm of this magnitude. In addition to a flood watch, the NWS has issued a high wind warning, which could include gusts moving between 60 and 70 miles per hour — strong enough to knock down trees and power lines.
At a press conference on Tuesday, San Francisco Fire Chief Jeanine Nicholson advised residents to prepare for potential blackouts. "Please stay home, please have your flashlights, and if you have generators, have fuel in them, to be able to take care of yourself and your family," she said.
Besides flashlights, experts recommend having an emergency supply kit ready in both your home and car that includes non-perishable foods, necessary medications, cleaning supplies and water for several days, in case services are cut off in your area. You can also include a copy of your ID, charging cables for your cellphone and a portable cellphone battery pack.
If your home experienced flooding during last week's storm — or in storms from years past — officials recommend having sandbags, plastic sheeting and other flood control materials ready. Counties, public utilities and even community organizations across the Bay Area are distributing free sandbags. Keep in mind that some distribution sites, like those in San Francisco and San José, may ask you to show ID to prove you are a resident. Learn more about where to find sandbags.
On social media, the city of Oakland has asked residents to make sure storm drains in their neighborhoods are clear to reduce the risk of flooding. Both Oakland and San Francisco have programs where residents can "adopt" a storm drain in their community and help remove leaves and other debris.
FEMA has also created a tool that tracks which parts of a city are under flood risk — and to what extent. You can input your address in the FEMA Flood Map Service Center. Once the map tool locates your address, you can select the "Dynamic Map" option to see a more detailed map that may have certain neighborhoods or blocks color coded to represent flood risk.
If you are a homeowner, keep in mind that most home insurance plans do not cover damage caused by flooding. However, you can buy an additional policy with the National Flood Insurance Program through your existing insurance provider. It's important to mention that if you decide to buy a plan, there is a 30-day wait period for the benefits to begin, so the policy would not cover damages potentially caused by this week's storm.
I need sandbags. Where can I get them?
In San Francisco, officials have stressed that only residents who have previously experienced flooding in their homes should seek out the free sandbags provided by city agencies. "If you have not experienced flooding in previous storm events, you are not likely to experience flooding," said Carla Short, director of Public Works, at a press conference on Tuesday. "So please leave those sandbags for people who have had flooding issues in their homes."
Santa Clara Valley Water has created a helpful video tutorial on how to best place sandbags around a home. If your home has flooded in the past and you're looking to pick up free sandbags, there are several options available. KQED will be updating this list as we receive information on more pickup sites.
Alameda County: In Alameda County, residents can pick up sandbags supplied by the County Public Works Agency from four sites. There is a limit of four sandbags per household.
4825 Gleason Drive, Dublin
951 Turner Court, Hayward
Castro Valley fire station, 20336 San Miguel Avenue, Castro Valley
Castro Valley fire station, 19780 Cull Canyon Road, Castro Valley
Marin County: Keep in mind that some locations may just offer bags without sand. The full list of sites is available here.
Marin County Fire Department, 850 Drake Avenue, Marin City
Fire Station 7, 1 Hamilton Drive, Mill Valley
550 Davidson Street, Novato
Terra Linda Community Center, 670 Del Ganado Road, San Rafael (outside basketball courts)
1428 Mission Avenue, San Rafael (bags located in parking lot)
Contra Costa County: Residents can pick up sandbags at five locations. Keep in mind that some sites may ask residents to fill the bags themselves. Individual cities may offer additional locations.
2475 Waterbird Way, Martinez
2950 Walnut Boulevard, Walnut Creek
West County Detention Facility, 5555 Giant Highway, Richmond (sand and bags are kept separately in the facility parking lot)
3105 Willow Pass Road, Bay Point
500 Eagle Court, Byron
San Francisco: The San Francisco Department of Public Works began distributing free sandbags to residents at their operations yard at 2323 Cesar Chavez Street. Enter through the gate on Marin Street. Hours of operation for Tuesday have been extended to 8 p.m. and the site will reopen at 8 a.m. on Wednesday. Only five sandbags will be given per address.
San Mateo County: Residents can pick up sandbags from four sites:
752 Chestnut Road, Redwood City (enter on Spring Street)
1400 Broadway, Redwood City
203 Cornell Avenue, Half Moon Bay
Pescadero High School, 350 Butano Cutoff Road, Pescadero
Santa Clara County: Santa Clara County residents can pick up free sandbags from several locations managed by Santa Clara Valley Water.
1661 Senter Road, San José
5905 Winfield Boulevard, San José
George Mayne Elementary, 5030 North 1st Street, Alviso
El Toro Fire Station, 18300 Old Monterey Road, Morgan Hill
925 Embarcadero Road, Palo Alto
How can I drive safely in rain and strong winds?
Local officials are urging residents to limit unnecessary travel and stay home if at all possible, citing the potential dangers presented by downed trees and power lines in addition to flooding.
If you must drive, use your headlights, turn off cruise control, maintain a firm grip on the steering wheel and drive more slowly and cautiously than usual. Leave twice as much space between your vehicle and the one in front of it; wet roads might mean it takes longer to stop. Be alert for debris on the road. If your car begins to hydroplane, do not slam on the brakes. Remain calm, ease off the gas, steer in the direction you want to go and very lightly pump the brakes until you regain traction.
If flooding occurs, err on the side of caution. Don't assume you know the depth of a pool of water or the conditions of the road underneath it, especially at night. Always turn around rather than drive through a flooded area — as few as 6 inches of water is enough to disable or stall a small car, while 12 inches can sweep away a vehicle. If floodwaters begin to rise around your car, abandon the car and move to higher ground on foot. According to the California Department of Water Resources, more people become trapped and die in their vehicles than anywhere else during a flood.
How can I receive updates about my area?
If you haven't done so already, sign up to receive emergency weather alerts from your county. County officials use these notifications to inform residents of weather alerts, street and road closures, and evacuation orders. Find your county below:
In San Francisco, officials have asked the public to call 311 to report flooding inside homes, instead of 911. "We still have to run all our critical 911 calls whether it's a cardiac arrest, a car accident or a fire. If you add all these flooding issues that we've had earlier this week, it can really overtax the system," Fire Chief Nicholson said. "So if you have a little bit of flooding in your home, call 311. If someone is having a heart attack or if someone is being swept by water, call 911."
Original by Carlos Cabrera-Lomelí & Emma Silvers for KQED